Ask any college student — one of the best parts of the college/university experience is the opportunity to meet lots of people. More importantly, all kinds of people, with different cultures, viewpoints, and religions. The United Campus Ministry Center for Spiritual Growth and Social Justice in Athens, Ohio, near the Ohio University campus, is an active participant and provider of opportunities to expand our understanding of ourselves and our communities.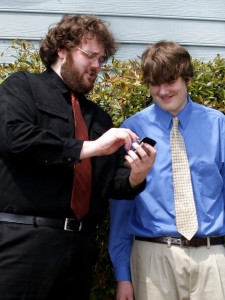 Pushing the Progression of People
The United Campus Ministry, UCM, is a non-profit organization born out of the Ecumenical Movement in 1968. Following socially progressive and interfaith values, UCM engages the Ohio University and Athens communities in spiritual growth, community service and work for justice. The UCM is "proudly progressive, creatively spiritual and intentionally inclusive."
Free and Open to All
UCM offers a variety of programs, events, and opportunities for spiritual growth, community service and work for justice. All services are free and open to all people of diverse backgrounds and beliefs. UCM practices radical hospitality, referring to the active demonstration of a desire to invite, welcome, receive, and care for those who are strangers so that they may find a spiritual home.
In addition to their services, the UCM has played a role in the formation of several local organizations, including My Sister's Place, Southeastern Ohio Foodbank, the Women's, Gender and Sexuality Studies program at Ohio University and the Open Doors event hosted at Casa Nueva in Athens, Ohio.
Let's Get Involved
UCM is a functioning center providing a variety of services and hosting weekly events for all to enjoy. Thursday supper and Saturday lunch are served every week and, are always free to everyone. A monthly calendar of all the UCM regular events can be found on the UCM website, www.ucmathens.org. Donations and volunteers are always appreciated; if you are interested in specifically Thursday Supper or Saturday Lunch you should email ucmmeals@gmail.com for more information. In general, donations to UCM are tax deductible and can be placed on the UCM website via PayPal account or mailed to UCM at 18 N College Street Athens, Ohio 45701.
Some more exciting ways to get involved in the fun include participating in the Southeastern Ohio Underground Railroad tours or listening to accomplished Faith and Justice speakers. If you're looking for open and accepting social interaction, UCM hosts book and video discussions that explore interfaith values, social justice and diversity themes. More details for all of the above and additional programs are also on the UCM website.
As the Earth awakens around us, we too can awaken growth within our individual lives. Making time for our spiritual exploration opens windows for positive energy to flow through all we do and welcomes peace of mind. The UCM offers an open space for the Ohio University and Athens communities to explore spiritual understanding. Strong individuals create a strong community that coexists harmoniously. Regardless of who we are or what we believe (or don't), taking the time to get to know and feed our spirit will greatly benefit all areas of our lives.
Do you take the time? If not, how can you incorporate any amount of time into your day/week to explore and nourish your unique spirit?