It just snowed for the umpteenth time this winter, and everyone is going a little stir crazy. Here are a few fun foods and crafts to do while you wait for the snow to melt.
Cinnamon Toast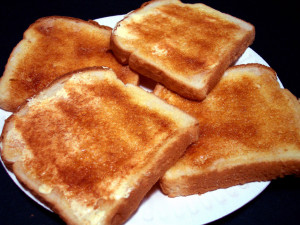 Toast some bread and prepare some with tea while you work. Combine a teaspoon of butter and a teaspoon of honey and spread over a couple slices, or mix a teaspoon of sugar and a teaspoon of cinnamon in a small bowl and sprinkle over hot buttered toast.
Busy Boxes
While preparing this first craft, Busy Boxes, get creative. Get a small basket or box and go into each room. Go the kitchen, living room, bathroom, and bedrooms, and grab 5 small objects from each room that you don't mind if they are incorporated into an art project. Things like Qtips, sticky notes, twist ties, clothespins, dried strands of spaghetti, half-used crayons, a sliver of soap, bottle caps, pebbles, soda tabs, rinsed egg shells, etc. Put about 20 objects in a shoebox and make as many boxes as children for this project. Gather everyone around the table with a bottle of Elmer's glue and let the fun begin- it's all about imagination with this craft!
Frozen Kingdom
Even though it's snowing outside, it can snow inside too! Make your own Frozen Kingdom with indoor snowflakes and igloos! Using paper, glue, cotton balls and marshmallows, have children construct their versions of winter people, palaces, and polar fun.
When the family needs a break, make Indoor S'mores. If you have a fireplace, you can make them the traditional way, taking care for indoor fire safety, and fire-safe skewers. If no fireplace, assemble chocolate bars, graham crackers, and marshmallows. Carefully heat the marshmallows in the microwave for about 5-6 seconds. Don't heat longer than 10 seconds or the marshmallow will puff up enormously. Add in mini sea salt caramels or a dash of cinnamon to try a different flavor. Remove from paper plate, create and enjoy your winter s'mores.
Icy Marbles
This craft has been getting a lot of Internet press, so it's included here. Icy Marbles: Fill several balloons with water and a drop or two of food coloring- blue, red, purple, green. Try cutting apart a small piece of a highlighter stick (the inside color part) and add to the water too. Tie shut and set outside in the snow. It does need to be at or below freezing for this to work. After a couple hours when they are frozen, cut at tie and peel away the balloon- and be amazed at your glowing frozen orbs.
Cold Cups
Thirsty? Scour thrift stores for old teacups, or pull out those mismatched cups in the cupboard. Line them up with several colorful sharpies and let the fun begin. Decorate teacups with names, images, and designs for your Cold Cups.
What do you like to do for fun, when it's cold out? Have you tried these crafts and enjoyed them? Let us know!